The Fight to Save Roundwood Manor
For more than three decades, Sylvia Korey has served as the protector of one of Ohio's most historic homes. But what she sees as a rescue plan to escape its demolition, Hunting Valley officials perceive as a threat to the village's character.
It's a cold November day in Hunting Valley, but Roundwood Manor is calm. While blue jays chase off smaller birds in its gardens, inside the 55,000-square-foot mansion is robed with classic volumes and velvet sofas. An Edna Jones CD radiates from the family room; her voice swells down the oak hall as owner Sylvia Korey's lowers.
"I used to wake up with a nightmare and jump out of bed," Korey says. "I had a vision that there was a wrecking ball outside. It was hitting the walls, and the walls would not fall."
Korey is the sixth owner of the estate. She moved to Hunting Valley in 1988 with her husband and three daughters. Under a wood-shingled roof, the house winced. Shag carpet blazed along the floor like moss, and layers of paint hid wood walls of 20th century eloquence.
"This house … I feel like I saved it twice," Korey says. "When we first bought it, it had been on the market for a few years. But we were young and not too savvy and didn't think about the consequences of what it would take to resell something like this."
Korey wears an emerald green sweater. A scarf drapes from her neck. Roundwood Manor is her home, and for more than 30 years, she has been its protector.
Korey first put the manor up for sale in 2002, but no one seemed to need a home with nine fireplaces, 14 bedrooms and 16 baths. The manor resides like a king on the prime lot of Daisy Hill in Hunting Valley — just one of the local legacies of the Van Sweringen brothers, who built it in 1927.
Neighboring homes started to appear around the mansion in the 1940s. Today, 62 stately homes sprawl across the hilly, wooded land, but Roundwood Manor remains at its center.
"There would be no Daisy Hill without this house," Korey says.
But by 2014, Korey still hadn't found a legitimate buyer. The only offer she'd received was verbal. And the prospective buyer wasn't interested in the landmark, just the land on which it stood. Slate, oak, sister marble to that used in the Terminal Tower — all would eventually be lost to demolition.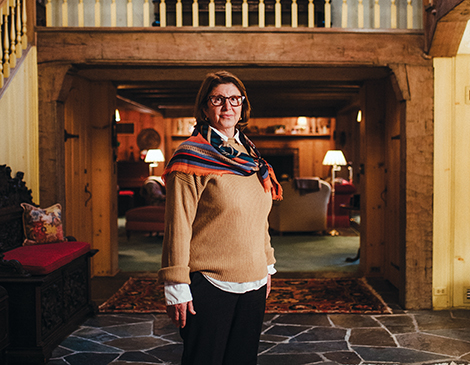 Korey had to find another way to sell. That fall, Korey was at her desk in the kitchen, Googling. She stumbled across what she believes will be the salvation of Roundwood Manor: conversion into upscale condominiums.
Specifically, the space would be divided into six 2,000- to 4,500-square-foot units, plus shared common areas such as the foyer, large pool, elevator, west tower and cozy bar.
But in 2015, the Daisy Hill trustees struck down Korey's proposal, citing a 1938 village ordinance specifying that each residence in the village must stand on at least 5 acres. Hunting Valley's Planning and Zoning Commission rejected the proposal, as well.
Korey sued, launching a legal battle that still rages today. Without a special use exemption, Korey believes Roundwood Manor will ultimately be demolished, taking with it a storied chapter of Cleveland history — and an architectural masterpiece.
Her top goal — her life's work, really, now that her children are grown — is to save Roundwood Manor.
"I don't want to be known," she says, "as the person who signed the death certificate for this house."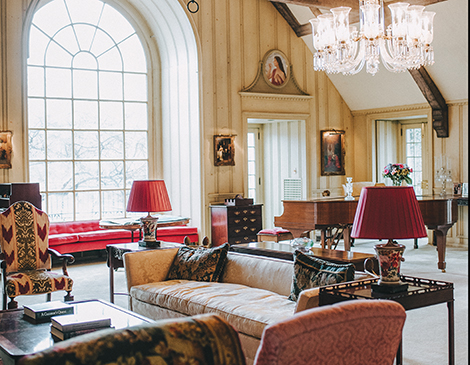 In 1988, Korey and her husband, Samir, bought Roundwood Manor for $1.45 million. They had just moved from London and had no place to live.
"This house just fell in our lap," Korey says.
Originally, a much smaller house had the Koreys' eye — a 10,298-square-foot Tudor pulled back from Pinetree Road in Pepper Pike. Coincidentally, it also was built by the Van Sweringens.
"We gave them the asking price," Korey says, "but the people changed their minds."
At the time, Korey was the mother of three daughters, the oldest being 6, and pregnant with a fourth. Too busy to think — and with the promise her parents would move in with them — empty Roundwood Manor seemed opportune. Of course, its Colonial-Revival splendor is enchanting.
"Coming from Romania, I always liked old things," Korey says. "So, when I saw this house, I mean, I loved it. I think I pinch myself just about every day from living here."
Korey emigrated from Romania to the United States with her family in 1965 at age 10, landing in Gordon Square, three houses down from the Romanian Catholic Church on West 65th Street. She studied civil engineering at Cleveland State University, where she met Samir. After graduation, they married. For Samir's work, the Koreys relocated to Kuwait, Dubai and London, before returning to Ohio, where Roundwood Manor awaited.
That first year, Korey recalls as many as 14 people living at Roundwood Manor, including a couple who cared for the grounds. During holidays, the number rose to more than 20 as relatives from overseas came to visit, staying two to three weeks at a time in the cheery and spacious guest wing.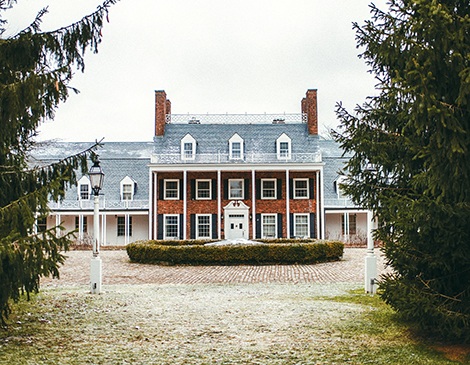 In those days, the kitchen was a perfume of pies and cakes, which Alexandra Korey, the youngest daughter, remembers making with her grandmothers. "
You wouldn't expect it in such a big house; it just felt so homey all the time," Alexandra says. "Just the mental image of coming down the stairs … seeing a massive fire in the fireplace … that's just how it was for so much of my childhood."
The four sisters baking pies and cookies in the Aga stove to eat beside the hearth, clinking away piano lessons and scurrying down the west tower stairs in a game of hide-and-go-seek live on in Korey's mind's eye.
She can still picture her young daughters in the ship room, a sweeping, classical allure with crimson couches and claw-foot furniture illuminated by an enormous Norman window flanked by French doors. The floor had become an impromptu art studio for a flurry of water coloring.
"Oh my God, all four of them," Korey recalls. "They were all on their stomachs."
When they were little, Alexandra and her sister Stephanie discovered how to hide behind the linen family room curtains, undoubtedly the best hiding spot in the house. By middle school, chilling in the west tower had become a tween rite of passage.
"That was like our cool hangout room. We had a bunch of inflatable furniture in there," says Alexandra.
Pool parties saw the doors flung open to the back lawn, snacks on the back bar and music pumping. Autumn turned the sour gum trees flanking the mansion scarlet. The crisp smell lured Alexandra outside to read books among the branches.
"A couple times over the years I stayed there by myself," Alexandra remembers, "and my friends — they'd be like, 'Oh my God, how are you not scared; it's so big.' And I'm like, 'it's home,' I don't think there's anything like that in Cleveland."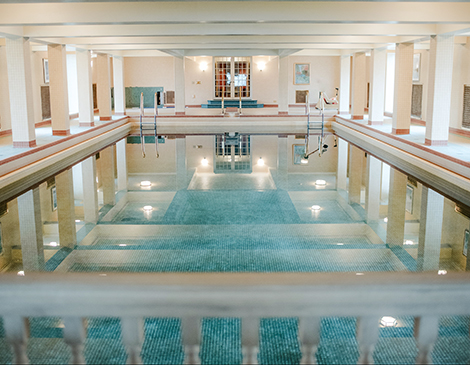 Millionaires' Row sounds like a fable. Of the 400 mansions that flourished from Public Square to 105th Street during Cleveland's Gilded Age, only four remain.
"How could we have possibly torn down all those mansions?" says Cleveland historian and author Dan Ruminski, who has held 700 talks on the topic over the course of the last decade or so.
"Cleveland on Euclid Avenue had over one-half of the world's millionaires at one time," Ruminski says. "If you can produce something like Roundwood Manor, you can feel it and touch it or even drive by it. You get an example of just how great we were."
Roundwood Manor is a living testament to two of Cleveland's greatest visionaries: brothers Oris Paxton and Mantis James Van Sweringen, the developers behind Shaker Heights, Shaker Square and the Terminal Tower complex.
The Vans, as they were nicknamed, moved to Cleveland from Lorain County for work. A leg injury from the Civil War led their father to file as an invalid, leaving the brothers — as well as an older sibling, Herbert — responsible to support him and their two sisters. Their mother, Jeannie, had died of tuberculosis in 1886. After her death, O.P. and M.J. were inseparable. Though 6 and 4 years old at the time, their partnership would only grow stronger, eventually igniting a suburban empire the remnants of which still stand today.
After an ill-fated real estate venture in Lakewood, the Vans bought land from the North Union Shaker Community on the East Side. They learned public transportation was implicit for suburban sprawl.
In 1915, they acquired the Nickel Plate Railroad for tracking rights, planning their own electric rapid transit line. The brothers continued to buy railway, controlling systems from New York to El Paso, Texas, in addition to those that spidered out to their developments. By 1929, their empire was valued at $3 billion. The completion of the $179 million Terminal Tower in 1930 — then the world's second-tallest building — was simply icing on the cake.
"It's the great American story. They started off as poor as poor could be, and they became among the wealthiest men in the country," Ruminski says.
Following a trend among Cleveland's business elite, the Van Sweringens bought a farm in Orange Township in 1911 from one of their land agents, Benjamin Jenks. Jenks' wife, Louise, went by "Daisy."
The Vans hired their favorite architect, Philip Small, to design the regal Colonial-Revival giant on the property. Originally 90,000 square feet, 50 rooms and 24 guest suites on 660 acres, Roundwood Manor served as a retreat for the Vans to entertain potential business partners. By 1919, the Vans had given their South Park Boulevard home to their unmarried sisters and began living full time at Roundwood Manor.
Then came the Great Depression, which undid the Van Sweringens. Though they intended to rebuild, the brothers died less than a year apart, M.J. in December 1935 and O.P. in November 1936. Union Properties parceled out the Daisy Hill estate beginning in the 1940s, and by 1946, Roundwood Manor had a new occupant.
Over the years, the mammoth house was reduced to its present form, with the removal of 35,000 square feet. Yet its craftsmanship continues to awe Ruminski and others.
"It's a remarkable architectural achievement designed by one of the greatest architects in Cleveland history," says local architect Tony Paskevich. "Besides the beauty of the architecture, just the history of it all. From the brothers who built it to the other owners who've had it over the years."
"Their legacy's quite enormous," agrees Ruminski, who recalls Euclid Avenue's discarded majesty. "Once you take them down, they're gone forever."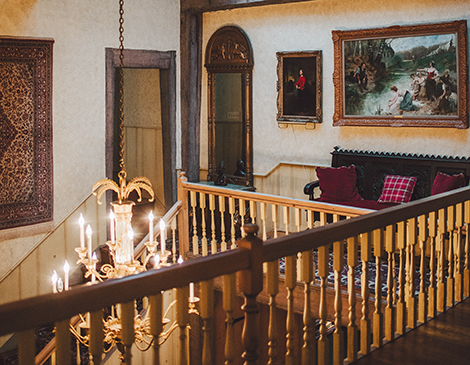 "I think the Van Sweringens used to play cards up here," Korey says. She hikes a curved staircase to the top of the west tower. She nitpicks the old paint as she goes, but the cosmetic flaw is trivial compared to the heights she's already climbed — literally.
Seen through the third-story windows, a Buckingham Slate roof crawls on like its own European city. Two ladders meet at a peak, each laid across one slanted side. Because stairs leading to the east tower were blocked by a former owner's glamour bath addition, the ladders have been Korey's only way of clamoring to the space.
"I used to go there all the time, walk the roof, just to make sure that everything is okay," Korey says. The slate roof cost Korey almost $1 million. It was but one of Korey's many projects as owner and protector.
Between the years of 1994 and 2000, Roundwood Manor awoke to its former glory. Korey had its gutters and towers capped with 24-ounce copper. She replaced pipes around the pool, dug out and replaced the old tennis court, gutted and revamped the kitchen, planted nearly 100 trees on the property and improved existing apartments on both the east and west sides of the house. She removed layers of plywood, linoleum and carpet to refurbish oak floors and freed the foyer's slate floor from concrete using a hammer.
In the family room, Korey stripped the walls four times before arriving at the initial knotty pine. She thought it was over when she hit white paint, but, the next morning, an apache green had bled through.
"I just remember my mom literally scraping away at the walls," Alexandra says.
Korey replaces the batteries herself in every smoke detector, answers every Gillmore Security mishap and mowed the 7.69-acre lot for 25 years. She takes about 14,000 steps every day.
"I would be 200 pounds if I didn't have this house," she jokes. "Martha Stewart, you have nothing on me."
After Korey's daughters left for college and the amicable end of her marriage, downsizing naturally appealed. In 2002, Roundwood Manor hit the market for $7.9 million.
The house has had six real estate agents since then.
A neighboring house in Daisy Hill sold for $8.5 million, but it was sizably smaller — most are. Korey gradually realized the marvelous spawning of room after room that awes Ruminski and so many others was a buyer's deterrent.
At one point, Korey dropped the price to $4.4 million. Roundwood Manor — even with all its improvements — was priced at $79 per square foot in an area where the average square foot is priced around $350.
"Buyers today are so different than 20 to 30 years ago. They want homes that are smaller, updated and easy to maintain," explained Howard Hanna real estate agent Adam Kaufman to Korey in a 2018 email. While he called her home "an absolute showplace," he also warned her that it's simply not what today's buyers want.
So Korey began her search for a solution, one that wouldn't lead to eventual demolition. One fall day in 2014, Korey looked out at the front lawn from her desk in the kitchen. The sour gums may have been dressed in their scarlet flames as she read the title of an article about repurposing country homes in Princeton, New Jersey: "Grand Old Mansions Find New Life as Condominiums."
"Bingo!" says Korey. "It was like a lightbulb went on in my head."

Hunting Valley's Village Hall is nestled between ravines. The roads are laid as if a cat dragged them over the hills like a toy ribbon. The occasional Kinkade-like home can be spied through trees.
People are attracted to Hunting Valley for its rural charm, a characteristic the village jealously guards. Only 7 miles away, SOM Center Road's commercial cluster barks at the rolling scenery. The traffic is a reminder of the kind of thing Hunting Valley wants to keep at bay.
When Korey took the first steps to convert Roundwood Manor into condos in 2015, she was denied an exemption to Hunting Valley's zoning code, which requires each residence to sit on a minimum of 5 acres.
Cleveland Magazine reached out multiple times via email to Daisy Hill trustees, as well as members of Hunting Valley's City Council and Planning and Zoning commission.
Only Hunting Valley mayor Bruce Mavec welcomed an interview.
Mavec moved to Hunting Valley in 1988, the same year as Korey. He's had dinner at Roundwood Manor with the Korey family. He has a calm demeanor and measured voice.
"All the village is trying to do is defend its zoning code," he says, the buttons on his suit jacket sleeves running along the table. "When people are buying houses here, they're expecting it to be 5 acres."
If Roundwood Manor is given an exemption to the code, he offers, it could create a precedent, allowing other large properties to someday be converted into multifamily housing.
Korey has a simple solution to this: Specify that exemptions can only be granted to homes built before 1930, on the National Register of Historic Places and more than 50,000 square feet — a step that ensures only Roundwood Manor is granted said special-use permit.
Anthony Coyne, Korey's lawyer, has a two-pronged argument: One is that an exemption should be granted under the premise that no harm will be done to Daisy Hill by the proposed condominiums. The other is that multifamily residences built before 1938 — the year the village zoning code went into effect — should be grandfathered in, thus exempting them from the 5-acres-of-land-per-residence requirement.
As an example, he points just down the road to a five-residence apartment building on 8.3 acres, originally Roundwood Manor's old garage.
"You would think that if you could convert the garage into multifamily that you could convert the base house into multifamily," says Cleveland Restoration Society president Kathleen Crowther.
Mavec counters by saying he can't get into the details of the case because of the pending litigation.
Coyne is resolute that the facts of the case favor Korey and her project.
"I don't think it's constitutional," Coyne says. "It doesn't make any logical sense other than it's just exclusionary zoning."
Mavec, who inherited the dispute when he took office in January 2020, admits to being a purist when it comes to the zoning code, but argues it's necessary to prevent the kind of "slippery slope" changes that could chip away at the integrity of the zoning code — and, ultimately, the character of Hunting Valley.
"We cannot afford in our community to be inflexible and purist," counters Crowther. "Korey has done more to preserve Roundwood Manor than any other single owner of the property, including the Van Sweringens. We should be thanking her every day for putting that property to good use for all those many years and, instead, she has all these impediments thrown her way."
Roundwood Manor is not a normal single-family home; it wasn't built as one.
Regular homes don't have pool locker rooms, garage space for 19 cars, multi-stall powder rooms, three driveways and an electrical room with levers behind chicken wire that can only be described as industrial. It was the Vans' business hotel.
From as far as England to as near as the East Coast, Crowther says, major cities like New York and Philadelphia are subdividing homes to accommodate modern living without sacrificing historic integrity.
"This is not a new idea," Crowther says. "In the hands of a talented architect, it can be done."
Paskevich is such an architect, according to Crowther and evidenced by the many high-profile homes he's built in Northeast Ohio. Throughout 2017, Paskevich worked with Korey on preliminary plans for the Roundwood Manor condominiums, a rearrangement he calls "moderately challenging" but not without creative solutions.
Paskevich pictures the average condominium at roughly 3,000 square feet and featuring an open floor plan with a family room, kitchen and two bedrooms. Common areas to be shared by all the units would include a cozy oak bar and the pool. An elevator would be installed to the left of the foyer's grand staircase.
While all this can be accomplished in a year, Paskevich estimates the cost at $1 million per revamped unit with selling prices still to be determined. He sees them appealing to clients with second homes elsewhere who want to downsize their Hunting Valley homes.
Korey says several people within Hunting Valley have already expressed interest in the Roundwood Manor condominiums if they become a reality.
"Most of the people in Hunting Valley that I've talked to have been very, very supportive, but they don't want to get in the middle of this," Coyne says. "This is a genteel community."
Genteel silence could cost Northeast Ohio a historic treasure. In Korey's mind, it's condominiums or demolition. If she continues to decrease the price, she fears a buyer who would raze the manor and build new.
Though Mavec suggests Korey place a restriction on the deed prohibiting its demolition, Korey says such a limitation would just make the house a hundred times more difficult to sell.
Without Korey to defend it someday — and with all four daughters living either out of state or overseas — a crippled, unkempt Roundwood Manor might eventually prove too difficult to save, despite its position on the National Register of Historic Places.
Presently, Roundwood Manor is still a gorgeous reminder of Cleveland's past. It's Daisy Hill's origin. It's a cornerstone of Hunting Valley, a community zealous to preserve its pastoral essence — some would say at its own expense.
Korey is determined to ensure the home she fell in love with 33 years ago remains. If her lawsuit is ultimately successful, she plans to reside in a Roundwood Manor unit herself. Ideally, the one sectioned from the family room, where her daughters used to sit and do homework by the fire.
"My life is here," Korey says. "Preserving this house and keeping the wrecking ball away has always, always been the priority."